Con el final del Milan Fashion Week nos encontramos al borde de cerrar esta temporada de catwalks y showrooms. Desde Fendi, pasando por Victoria Beckham y Theory, hasta Versace; nos hemos empapado con miles de colores y estampados perfectos para la primavera/verano del 2019. Si te perdiste de las tendencias que se generaron en las últimas dos semanas, sigue leyendo y disfruta del sneak peek al mundo de la moda.
Comencemos con los momentos y noticias más importantes de estas últimas semanas:
With Milan FW ending, we find ourselves at the finish line of another catwalk season. From Fendi, going through Victoria Beckham and Theory, to Versace; color and pattern are raining over our heads, making us ready for the spring and summer of next year. If you missed some of the most important shows of the season, keep reading for a sneak peek of the fashion world. 
First things first, let's talk about news and highlights of the past weeks: 
Escándalo en el mundo "Moschino"
Un días después del hermoso desfile que armó Jeremy Scott para Moschino, nos levantamos con unas acusaciones – nada nuevas – sobre la inspiración del diseñador. La diseñadora Eddes Gimnes, quien se reunió con el director creativo en noviembre del año pasado, tomó instagram para mostrar como la última colección presentada en Milán tenía un aire a la colección que ella le había mostrado en su encuentro.
A day after the beautiful catwalk made by Jeremy Scott for Moschino, we woke up with some disturbing – and usual –  accusations about the inspiration behind the collection. Eddes Gimnes, an emerging fashion designer, took instagram to show the similarity to a collection she made and showed him at a meeting they had on November last year. 
A dichas alegaciones, Jeremy Scott respondió con una serie de instagram stories aludiendo a colecciones viejas de Moschino que sirvieron como su inspiración. Sin embargo, en mi opinión y dado los tiempos que tardan en hacerse las colecciones, es factible que se haya inspirado o copiado de la diseñadora emergente. Les invito a ver su instagram y decidir por ustedes mismos.
Regarding the claims, Jeremy Scott responded with a series of instagram stories, showing old Moschino collections that served as inspiration to the designer. Nevertheless, in my opinion and giving the time they start doing the collection, it s possible he copied or was inspired by the new designer. I invite you to search her instagram and see for yourself.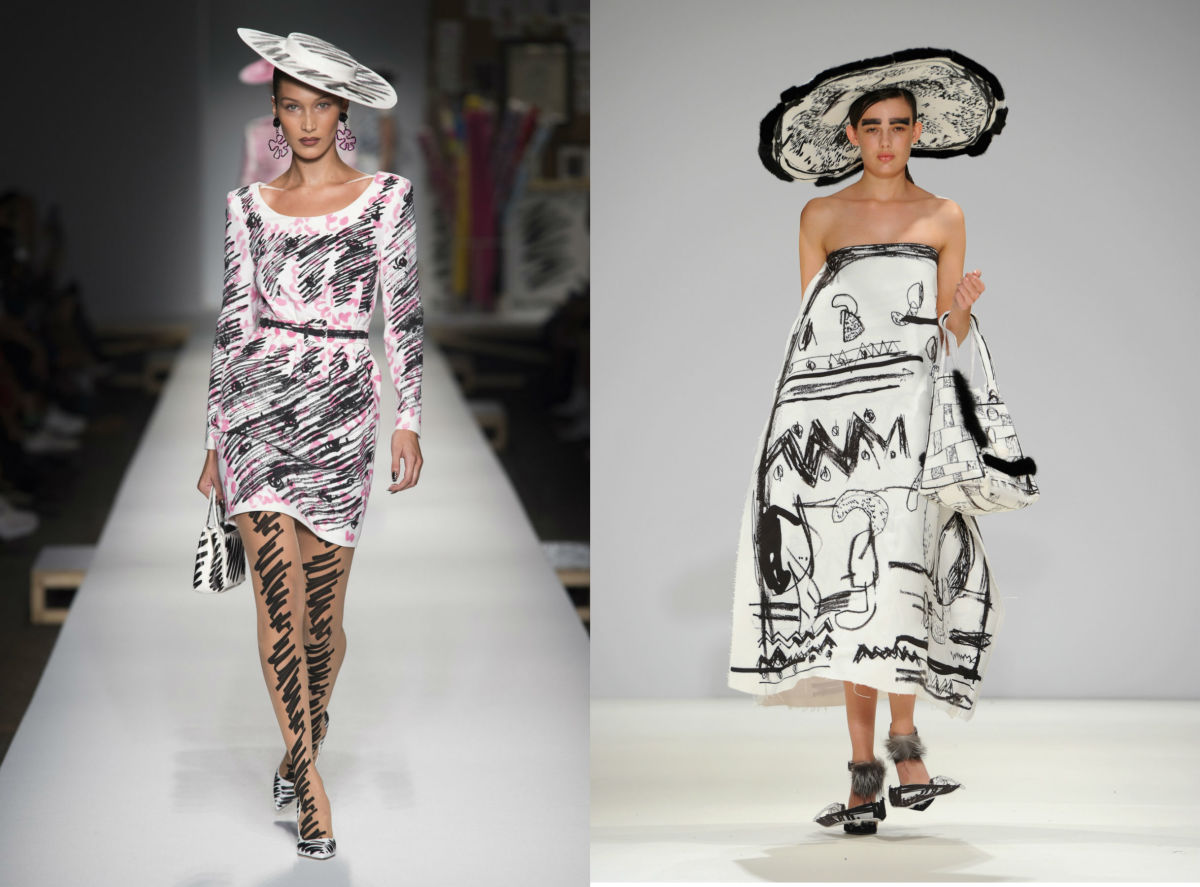 Londres dice "no" a las pieles
Por primera vez, se realiza un Fashion Week sin uso de pieles reales. Sin importar la historia de las firmas o la tradición, todos se unieron para rechazar le uso de pieles reales y darle paso a una generación llena de alternativas falsas sin violencia animal.
Esto implica un paso muy grande para el mundo de la moda, ya que todos sabemos que las marcas de cadena esperan ansiosos esta temporada para imitar las prendas a un coste más bajo; y muchas personas piensen que tiendas como Zara no utilizan piel real,  pero, lamentablemente, esto no es así.
Podemos decir que los años y años de protesta por parte de los activistas por fin ha dado fruto – aunque en mi opinión, las marcas han tardado mucho en reaccionar.
For the first time in fashion week history, we saw an entire week without the use of real fur. It doesn't matter the brand's history or tradition, they all united to impulse new mechanisms of faux fur without the need of animal violence.
This is a huge step for the fashion world, because everybody knows how the biggest chains of clothing wait patiently for this season to create their own, cheaper versions. People often think that, because of their prices, they do not use real fur but, sadly, that's not the case. So high end brands are pioneers and examples.
We can finally say that after years and years of protests, we are seeing the results – even though, I think the response had to be done earlier. 
Rihanna presenta por primera vez
Luego de lanzar su – muy exitosa –  marca de cosméticos, Rihanna nos sorprendió con una línea de ropa interior llamada Savage x Fenty. Además de tener colores pasteles y neutros muy hermosos, mostró una versatilidad, inclusión y empoderamiento que agradecemos en una época como la de ahora.
Definitivamente fue creada para la mujer cotidiana del día a día, aquella que trabaja mucho, la que no tiene el cuerpo típico de modelo, la que carece de pechos y la que tiene demasiado…pero quieren sentirse sexy a la hora de desvestirse.
El desfile estuvo lleno de escenografía salvaje, aludiendo a la fuerza y empoderamiento de la mujer.
After launching her successful makeup line, Rihanna is surprising us with a lingerie line called Savage x Fenty. Besides the pastel and neutral colours, she showed versatility, inclusion and empowerment and we are grateful for it.
It was, without a doubt, created for the day to day woman; the one who works nonstop, the one with the "non model-like" and impossible body, the other that has no boobs and, also, the one that has too much…. but want to feel sexy when they get undressed.
The catwalk was filled with savage props, capitalising the idea of a strong and empowered woman. 
TENDENCIAS / 
TRENDS
Blazers y trajes
Crazy Prints
TULLE